After the hospital bombs comes the atomic bomb? You can no longer understand with reason the monstrous murders in Ukraine, writes Miodrag Soric.
If you call Vladimir Putin "crazy", it 's the same as Stalin, Lenin or Mao: Powerful, very calculating rulers, fanatically driven by their ideology. Putin wants to make Russia a superpower again, despite the price. He pursues this goal, even against the will of his people and the elites installed by him and corrupt. He not only surprised both sides with the attack in Ukraine, the former secret service employee betrayed their interests!
With this war Putin is taking the people of Russia hostage: he is forcing them to bear the consequences of his crimes. Consequences, which will go beyond the economic sinking of Russia. Russia threatens to become the outcast of this world. The hatred of Ukrainians for everything Russian will grow daily. The return to dictatorship, the end of open Russia and modernization, the rejection of Europe, all of these are part of Putin's ideological madness. He prays as sacred to a unique "Russianism" and demands that others do the same.
Putin, the Grand Inquisitor
This mentality is the opposite of orthodox Christianity, to which Putin willingly refers when it suits him. The biblical God in the decrees of the decalogue first stops the worship of other deities, and gives man the freedom to do good. It is this freedom that Putin seeks to snatch from the peoples of Russia and the Ukrainians. And it resembles the great inquisitor in the novel "The Karamazov Brothers" by the great Russian writer Dostoevsky, who in the end accuses God of making a mistake. Freedom is nothing to man.
Russia can win freedom and dignity if Putin loses this war. But that would be Putin's political end. So he will do everything, to prevent this, and will escalate the war. He can do it because he knows: Russia has atomic weapons Ukraine does not. And yet he should not feel well either, when more and more Russian soldiers ask, why are Ukrainians ridiculed as fascists? Or why should they fight against a brotherly people?
Ukrainians do not suffer from such conflicts. They protect their country, their homes, their wives, their children and their parents. With the courage of despair, with the willingness to make the greatest sacrifice, they rise up against the military supremacy of the attackers. Ukrainian David against Russian Goliath.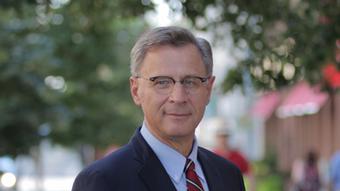 Miodrag Soric
A victory at the price of dependence on China
But even if Putin manages to secede from a part of Ukraine in the peace talks: Russia can not win peace and thus not win this war either. This country lacks the means to conquer all of Ukraine continuously. Putin closed the door to Europe and the free world. This country will now be dependent on China. The Chinese have always been good traders. This billionaire people will take the wealth of Siberia, whether it is oil, gas, coal, wood or nickel. China's growing economy needs everything, preferably as cheap as possible. The citizens of Russia must reflect now and act. Are you? Millions of Ukrainians show this every day.DW
top channel