The news that the Russian forces executed the Albanian soldier Emanuel Bazanji in Kiev was spread through twitter.
This is fake news.
Top Channel journalist Muhamed Veliu talked, a little while ago with Emanuel who said that this is untrue news.
Through Whatsapp this is Emanuel's answer.
"Muhammad, because I am nervous and stressed, let them write what they want, when this war is over I will look at everything they write," he said.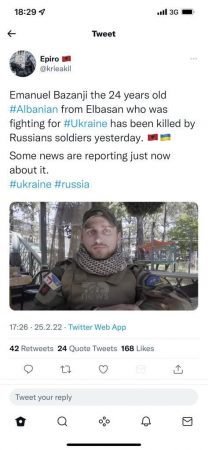 Asked by journalist Muhamed Veliu about the situation surrounding Emanuel, he said: "It is very difficult because we have been hit by air."
For more details follow the 19:30 news edition on Top Channel.
top channel